1(866) 443-5396
Garage Door Transformations
COVID-19 - We're Open
We Are An Essential Business. Click Here To Learn How We Are Keeping Our Customers & Employees Safe.





WITH 1,830 REVIEWS
Click
to view local phone numbers
(716) 262-9696
(716) 262-9696
---
Buffalo Area





(716) 508-4809
(716) 508-4809
---
Hamburg Area





Aurora

Collins

North Collins

South Wales
(716) 608-4491
(716) 608-4491
---
Cheektowaga Area





(716) 817-5558
(716) 817-5558
---
Amherst Area





(716) 989-4215
(716) 989-4215
---
Lancaster Area





(716) 402-5358
(716) 402-5358
---
Niagara Falls Area





(716) 531-4518
(716) 531-4518
---
Tonawanda Area





Click and drag the green circle left or right to see the transformation.
Beadboard Carriage
Featuring beadboard detail and Blue Ridge hardware, the Oak Ridge 320 carriage style stamped steel door brings elegance to any home. A steel back and polystyrene insulation makes this door incredibly durable while also keeping the cold out of your garage. The Thames style window insert brings a touch of light into the garage.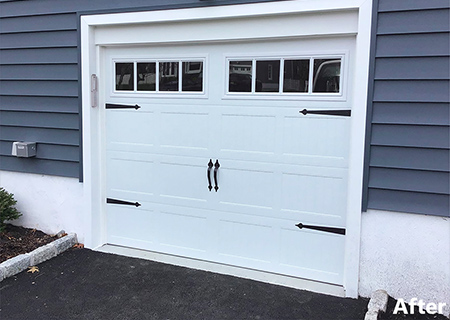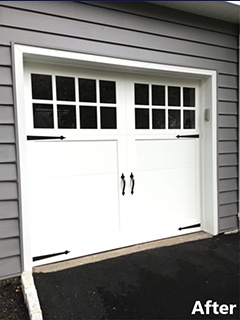 Overlay Carriage
A combination of steel and vinyl composite brings both durability and style to this carriage house sensation. Vinyl composite overlays create depth, and the 30" top panel with simulated divided lites ensures plenty of light for the garage interior. The smooth appearance is accented with Blue Ridge straps and handles to complete the look.
Modern Walnut
Here you get the look of real wood with the simple maintenance of steel. This walnut color door gets its interest from the rustic texture of the PVC overlays, but keeps a modern flair by going hardware free. With polyurethane insulation, this door keeps the garage toasty in the winter and cool in the summer.
Contemporary Plank
This plank style door shown here in a cedar color is a standout in the neighborhood. It features long panel tinted windows along the right side and a solid steel front and back. The polyurethane insulation brings the R-value to an impressive 17.54.
Arched Carriage
Providing the classic smooth look of a painted wood garage door, this steel and vinyl composite door is both durable and beautiful. Large arched windows on these doors reflect the architectural details on the front of the home, with Blue Ridge hardware completing the look.
Classic Panel
This raised short panel design offers a traditional look to any home. The combination of a stamped steel front, polystyrene insulation, and steel back creates the durability necessary for daily use of this wide double door. Stockton window inserts complete this simple, yet classic garage door.
Call now and get a free quote: 1(866)924-6042